Your restaurant floor plan is the first big step in your kitchen design. More than aesthetics, it will determine the kitchen workflow, servers' efficiency, and your maximum throughput. Basically, the success of your restaurant starts with your floor plan.
What is a Restaurant Floor Plan?
Simply put, a restaurant floor plan is a map detailing the various physical spaces of your restaurant and how they fit together. It includes everything from your kitchen to your dining room to your restrooms. Complete with dimensions, kitchen equipment, and even your POS system, a floor plan provides the basic blueprint for how you will run your restaurant.
Why Does Your Restaurant Need a Floor Plan?
At the bare minimum, you likely need a floor plan to apply for permits. Most states require you to include one along with your business plan before issuing the necessary licenses.
But a floor plan is an invaluable tool when planning your restaurant. It'll help you make business-critical decisions before purchasing a single piece of equipment, like how many tables you can accommodate, where the wait staff will enter and exit the kitchen, or even how your kitchen staff will work. The decisions you make now will have a lasting impact on your throughput and your restaurant's profitability.
Designing your restaurant on paper (or on the screen) will give you a chance to visualize your layout before bringing in a contractor. You get the opportunity to play with different floor plans and decide on what works best for your space, your guests, your employees, and your business.
Questions Your Floor Plan Should Answer
Beyond dimensions, a restaurant floor plan should answer the following questions:
How many diners can you accommodate?
How many kitchen staff members can you accommodate?
Will you offer outdoor dining?
Is there a drive-thru?
What equipment will you install?
Where are your emergency exits?
What accessibility accommodations will you make?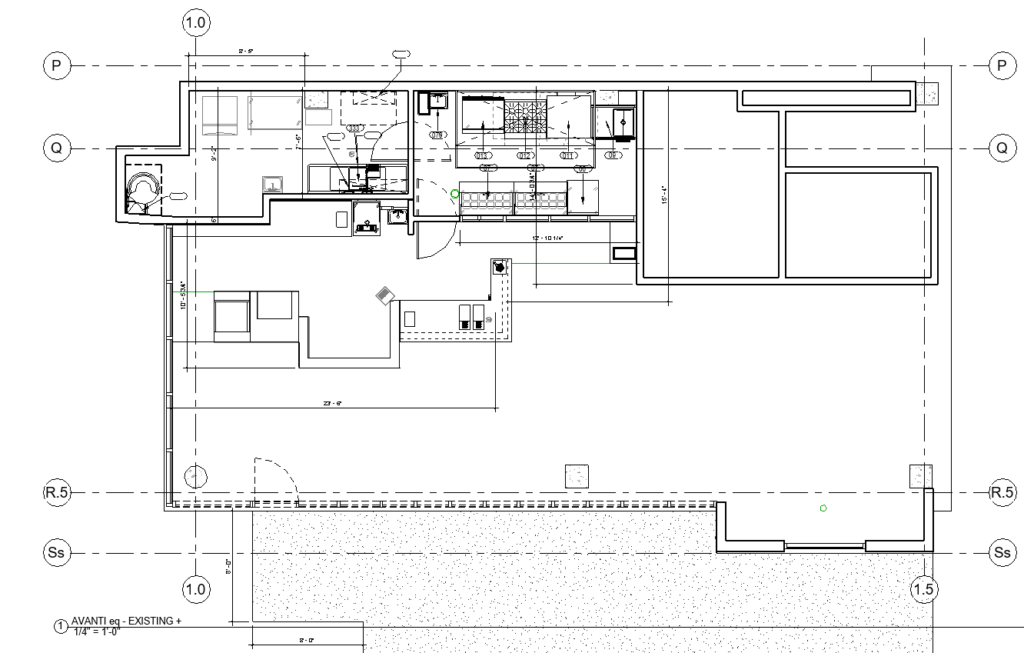 What Should Your Restaurant Floor Plan Include?
Your restaurant floor plan should include the following:
Start with your kitchen layout. This piece of your floor plan likely has the most impact on your restaurant's efficiency. As the beating heart of your business, the kitchen needs to be able to flow easily to different areas of your restaurant, from the dining room to the take-out window to the drive-thru.
When designing your kitchen, you'll need to consider the foodservice type, the menu and style of food, and the cooking techniques.
Your kitchen floor plan should also include:
Equipment
Outlets
Emergency Exits
First impressions matter—even more so for new restaurants. Even with an increase in takeaway and delivery, you still need to get customers' attention.
Think about the following to attract new customers and tell your restaurant's story:
Signage
Decorations
Lighting
Seating
Landscaping
Will you have a waiting area? If space and capacity allow, your waiting area also influences your customers' early impressions. But there are other factors, too.
Consider whether customer takeout and third-party delivery services will use the same entrance and waiting area as your dine-in customers. Carry-out, delivery, and drive-thru orders increased by 22% YOY in October of 2020, so planning for it in your design is a must. Although take-out growth is expected to slow as dine-in options reopen, they will still be a large part of the restaurant business.
For those who offer indoor dining, your dining room has a large impact on your customer throughput. While you want to maximize capacity with your seating arrangements, you also have to balance other factors, such as accessibility, traffic flow, and general aestheics.
Now, you also have to consider capacity restrictions due to COVID-19 regulations. Whether or not these restrictions are here to stay, it's better to prepare for anything. New restaurant designs should allow for social distancing and capacity considerations since we don't know if or when the world will return to pre-COVID dining.
5. Outdoor Seating Layout
With many COVID restrictions forcing diners outdoors, your outdoor seating plan is more important than ever. Maximizing your outdoor seating options in the planning stage will increase your throughput, even if capacity restrictions remain.
6. Full-Service Bar Layout
Despite social distancing guidelines and increased takeout dining, bars are still a big draw for customers. If you have the space for a bar, make it the focal point of your dining room. They're a great place to show off your restaurant's character.
Besides alcohol sales, a bar provides an easy option for single diners and those in a rush. It can also serve as a gathering area for people waiting for a table.
Don't forget the restrooms! Restrooms are often forgotten in the design phase, but they can further your restaurant's theme and ambiance.
You'll also want to consider the practical items, such as accessibility and cleanliness. If avoidable, you don't want customers traipsing through the kitchen and getting in the way of your servers. Above all else, you'll want a bathroom design that's easy to use and easy to keep clean.
8. Employee Break Area or Office
At this stage, you'll also want to plan out your employee and office spaces. If your space allows, give your employees a place away from it all, whether they need to prepare for a shift or unwind during a break. It's also a great place to post announcements, schedules, or mandatory signage.
If you plan to have management onsite, plan your office space at this point as well. Find a balance between being away from the noise but close enough so that the manager is easily accessible when problems come up.
9. Point-of-Sale System and Payment Stations
Where you put your registers and what POS you opt for can help you streamline everything from ordering to check out. The type of restaurant you're building will greatly influence your POS system and how you layout the registers.
If you're planning on designing your restaurant floor plan on your own, you can start with a basic template or utilize various CAD software programs, like CAD Pro, Kitchen Cut, or NCH Software.
However, a designer can easily combine codes and regulations, and aesthetics to maximize your restaurants' throughput and ultimately increase your bottom line.
Turn to the pros with over 17 years of experience and 4000 restaurant projects to help you design a restaurant floor plan.
Get started with a free consultation.
Avanti Design Studio plans your restaurant from the inside out, using the most effective design options.