How big should your commercial kitchen be?
It might be one of the first questions you need to ask, whether you're just starting to look for a kitchen space, designing your restaurant, or remodeling what you have. But the answer isn't as simple as it used to be.
Keep reading to find out the average commercial kitchen size and how to determine your kitchen to dining space ratio.
Is There a Standard Commercial Kitchen Size?
Not really. The average commercial kitchen size is roughly 1,000 square feet, but that's based on data from 2018. The study surveyed 722 restaurants of all kinds and therefore got a wide variety of responses.
And the average commercial kitchen size doesn't tell the whole story. Restaurant kitchen sizes (like restaurants themselves) vary widely. A walkup counter isn't comparable to an expansive dining experience. In this report, kitchen sizes ranged from 500 to 1,375 square feet.
If you need some point of reference to get you started, it's easier to think in terms of kitchen vs. dining room square footage relative to each other.
Most dine-in restaurants support a kitchen that's 30% of the total square footage and a dining room that takes up 60%. This leaves the other 10% for storage, office space, restrooms, etc.
However, quick-service restaurants typically flip that number, with seating only taking up 45% of the total floorplan and the other 55% going to the kitchen and storage space.
But this information is outdated. Since the pandemic began (and even a little before), restaurants of all kinds have had to adjust to new food service standards. Dining rooms are shrinking to accommodate increasing takeout and third-party delivery options.
New service options like ghost kitchens also have their own size needs and requirements. Ghost kitchens are typically much smaller, at only 200 to 300 square feet, and have no need for dining rooms.
Why is Commercial Kitchen Size Important?
Conventional wisdom says dining rooms are the big moneymakers for most restaurants (quick-service restaurants not included). Your capacity and throughput are the key drivers of success. How many people you fit in your dining room can make or break your restaurant during peak hours.
With this thinking, every seat can be assigned a dollar amount. The more seats you have, the more people you can serve, and the more money you can make. So naturally, kitchens needed to be just large enough to serve those seats—but any larger than absolutely necessary can cost you money.
But that's not the case anymore.
Full-service restaurants are taking a page out of the QSR's handbook. They're shrinking dining rooms to make way for kitchen layouts that can keep up with various takeout options.
And QSRs are even taking it a step further.
Quick-service restaurants are relying more on third-party delivery and drive-thrus,
fast-casual dining is becoming more fast than casual, and full-service restaurants are embracing to-go options.
And it's not only changing the size of commercial kitchens—it's changing how they operate.
The Shifting Restaurant Landscape
Fueled by the pandemic, capacity limitations and safety concerns are keeping customers out of the dining room altogether. They're demanding more take-out options that keep them away from crowds and closed-in spaces.
In response, restaurants of all kinds are doing more to serve customers beyond their dining rooms, including more third-party delivery services, in-store pickup, curbside pickup, and even drive-thrus.
Fast-casual restaurants like Qdoba and Chipotle are doubling down on throughput improvements, including adding drive-thru lanes to their busiest locations.
The Wall Street Journal reported that Chipotle expects more than 60% of new restaurants will include drive-thru lanes. But these "Chipotlanes" were prospering even before the pandemic—signaling that the pandemic just accelerated an already-growing trend.
Qdoba is following a similar path, with planned drive-thrus and ghost kitchens to help meet takeout demand.
Even Starbucks is opening more pick-up-only locations, doing away with some of their in-store seating options as a result.
What impact does this have on designing your commercial kitchen? A lot, actually.
Commercial kitchens are expanding to accommodate the various order options and deliver a higher throughput. Chipotle, for example, has added extra make lines and prep space to their kitchens that are separate from their customer-facing assembly-line to accommodate drive-thru service and increasing order-ahead options.
When deciding how big your commercial kitchen should be, you need to take a forward-thinking approach.
Adding extra prep and storage space for to-go orders is important, and some owners are even planning ahead with walk-up windows to serve third-party delivery and takeout options.
If adding square footage or making structural changes to the building aren't an option, relying on efficient kitchen design and the right equipment can help maximize throughput.
What determines the size of your restaurant kitchen?
Outside of the changing landscape, several additional factors can dictate the size of your kitchen and dining room. Here are just a few things to consider.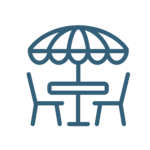 Type of restaurant. It's highly likely you already know the answer here, but it's the #1 factor for determining the size of your commercial kitchen. A QSR will have drastically different needs than a full-service restaurant, so plan accordingly.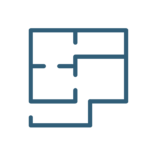 Physical space. Are you moving into a second-generation space? Building a new location from scratch? Remodeling your current restaurant? You'll likely have to work within physical constraints to design your restaurant.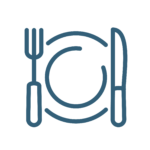 Your menu. Does the cuisine you've selected need a lot of prep space? Any specialty equipment? When every square inch counts, you should design your kitchen to accommodate every part of the food preparation process. These are things that you'll need to determine before you nail down the size of your kitchen.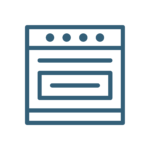 Restaurant equipment. Identify what equipment you need and include it in your design process. This is especially important if you have special equipment that will influence your space requirements. For example, if you need a brick oven to make pizza, your kitchen space will need to be designed around it. Since equipment will take up a large portion of the kitchen, you'll have to allocate space for everything else.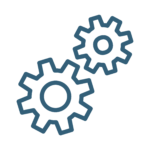 Kitchen workflow. How you operate your kitchen will determine the design and space you need to make it happen. For example, an assembly-line workflow will require a different amount of space than a zoning configuration. While you can always make modular changes to a kitchen after it's built, you'll always have the same amount of space to work with, so it's important to make these decisions early for the best success.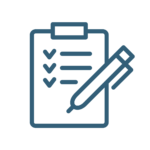 Regulations. Food and safety regulations dictate things like how many exits you need, accessibility considerations, bathrooms, hygiene stations, etc. Meeting these regulations can affect the space and layout of both your kitchen and dining room. Plan ahead so you're not stuck with change orders and less kitchen space than you hoped later on in the construction process.
Kitchen Size is Only the Beginning
Determining the size of your restaurant kitchen takes more thought and planning than just looking at the average commercial kitchen size. There are many factors, plus changing industry trends, to consider. To be competitive post-pandemic, you need to take all this information in and use it to build a commercial kitchen that delivers the efficiency and throughput you need to serve your customers.
And size is just one of the many things you have to worry about when designing your commercial kitchen. You need to make hundreds of small decisions early to set your restaurant up for success.
Avanti is here to help. With nearly 20 years of experience servicing QSRs to full-service restaurants, we know how to determine the size of your commercial kitchen—and how to maximize every square inch of it.
Reach out for a consultation today.
Feeling overwhelmed? We're here to help. We have all of this information and worked into our process. Turn to the experts and we'll streamline and simplify your commercial kitchen design.